Grad Student Information
Welcome to HCOS Learning Commons! 
Welcome to all of our grad families!  We pray you are all staying safe and well, and enjoying some beautiful Fall days!  Our grad student population has really grown at HCOS and with that so has our Learning Commons.  We are now loaning high school textbooks for longer loan periods, and we have some popular homeschool materials for you to order.  Our Learning Commons has a superb team of librarians who can help you find both digital and non-digital resources quickly.  We welcome questions either individually or to Learning Commons leaders as shared  below, or on our live chat at the bottom right-hand corner on our landing page here.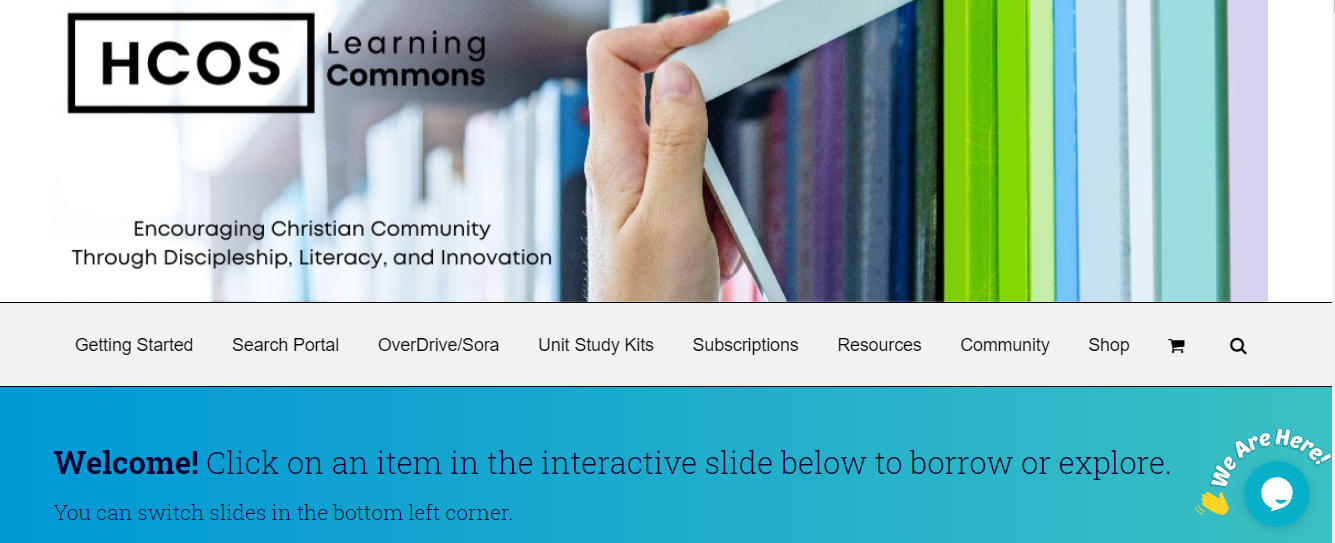 Who can I speak to about Learning Commons materials for grad students?
What is the difference between the Learning Commons Website and the Search Portal? 
The learning commons website is a website to find further information on all of our different resources.  The search portal is our catalogue where patrons can book items or search for weblinks.
Getting started tutorials:  
Enrolled Patrons
Registered Patrons
Check out the new FAQs section to help you find useful information quickly
What is Available to Grad Students in the Physical Commons? 
Enrolled students have access to all materials including fiction, curriculum and the Individualized Program Textbooks. Textbooks include Apologia and other science options, Teaching Textbooks and other math options, The One Year Adventure Novel set and other English options. 
Registered students have access to the main catalogue and the Learning Commons textbooks, but not the  Individualized Program Textbooks.
How do I Book High School Textbooks and other materials? 
The Individualized Program Textbooks have a loan period of 8 months. All other materials have a loan period of 10 weeks.  Here is the tutorial for booking the  Individualized Program Textbooks for enrolled students.  You can watch the textbook reservation process here on this video.
Here is the Registered patrons tutorial for the Search Portal.
What is the Shipping Process?  
It is important to understand how shipping works and how many items you can access so you can make the most of your shipments.
There is a

minimum order

required for shipping items:

5 books or 1 unit study kit or 1 High School Textbook,

(we do not ship just one book due to shipping costs).
Please follow the applicable links to the information below:
Enrolled patrons -
shipping
The Learning Commons offers

8 FREE shipments (4 round trips sent and returned)

per family per school year (August 1 – July 31st) for Enrolled users. That is one shipment every 10 weeks. Once the limit is reached, the enrolled family is responsible for the full cost of the shipping, which can be paid from student funding.
Registered patrons  -
shipping 
The Learning Commons offers 4 FREE shipments, (2 round trips sent and returned), per family per school year (August 1 – July 31st) for Registered users.  Once the limit is reached, the family is responsible for paying all of the shipping costs.
What is available to you in the Digital Commons?
The resources available to grad students in the HCOS Learning Commons can be viewed in the Grade 10-12 Grad Index.

Each subject heading will have a section entitled, "Learning Commons Resources" with content from the OverDrive Virtual Library and from the Physical Resources.  The virtual library contains our digital content.

Research Consultation :  Pippa Davies
Curriculum Consult if your teacher is not available:  Cynthia Duncalfe


Subscriptions 
The subscriptions found in the Learning Commons Search Portal are free to HCOS students.  
Getting Started: 
The best way for students to find subscriptions names, links, usernames and passwords is to log in to the Learning Commons Search Portal with your Encom login if you are enrolled, or with the login you will request from the Learning Commons if you are registered. 
Subscriptions available to you in the Learning Commons:
Scroll down on the Subscriptions page to "What Subscriptions Does the Learning Commons Offer?"  Choose the "enrolled" or "registered" column. Each of these blue links will take you to a page with information about the subscription, how to use it, and often includes a link at the top of the page, where you can log in to the subscription.  
Subscriptions You Will Want to Use:
Axis and RightNow Media: These are great sites for Bible and Christian studies.  Axis has released a new kit, Racism Conversation Kit for parents and teens to watch, with a worksheet and discussion guide to use with it..  There is a library in RightNow Media just for mental health--you will find it in the list of libraries.  It includes videos on such topics as depression and discouragement, stress and anxiety, healing from the past, addiction, PTSD, abuse and trauma, and many more.
BC ExamBank: This is a website where students can write online practice exams in core subject areas. 
Curio:  Curio.ca is the CBC and Radio-Canada site, where students can find CBC  resources and documentaries for most subjects.  For example, type "Black Lives Matter", "Racism" or "Discrimination" into the search bar at the top and see the results.
Discovery Education Canada:  This site contains educational videos on all topics, including some Canada-specific content.
EBSCOhost and Explora: This is a premium online information resource, which is also a good source of Canadian content. 
GALE Cengage:  GALE Cengage is your Grade 8-12 research site with magazine, newspaper and other articles from over 600 online databases.    
Gizmos:  Gizmos are interactive math and science simulations which help students to inquire and learn.  What are Gizmos?  (4 minutes)  Introduction to STEM Cases (3-1/4 minutes)  There are 45-minute webinars at the Pro-D Resources.  Scroll down to find the Gizmo-specific webinars near the top of the page.  
KNOWBC:  KnowBC is your site for BC-specific research, including the Encyclopedia of British Columbia.
Learn360:  Learn360 has streaming video and non-video content from a wide variety of producers, including many award-winning programs.
World Book Encyclopedia:  World Book Advanced is a source for research, with its Pathfinders collections of resources, and Timelines.  'Timelines' allows students to use and adapt pre-built timelines, or create their own.  World Book allows you to save research from their sites and from other sites/books/articles in the "My Research" section.
OverDrive and SORA 
OverDrive and SORA are our digital libraries containing eBooks and Audiobooks, including:
Christian and popular fiction, non-fiction 

Curriculum, including some popular homeschool curriculum,  aligned to the BC standards

Books found in our unit study kits 

Book club books

Parenting help books 

Novel studies

Grad teacher requests based on individualized course suggestions
What is the difference between OverDrive and SORA?
OverDrive is the native desktop version which allows you to read or listen on all devices  It provides full access to all materials within the HCOS Digital Library and allows for all books of various formats to be read, including ePDF workbooks.  Workbooks for grad students may include novel studies and books that offer learning services support.  
The vast majority of books are accessed using OverDrive Read or Listen, just click on the link and access via your browser.  If you cannot access a book using your device make sure you have installed the OverDrive App.
***For software downloads with regards to ePDF/ePub formatted books (many of our workbooks) please read this tutorial and watch this video which shares how to use Adobe Digital Editions 
OverDrive Getting Started
Please follow the steps for getting started on this

page.

Sign in directly to OverDrive

here.
What is SORA?
SORA is our student app which allows patrons to read or listen on supported devices.  Please note you cannot read ePDF books on a device like an iPad or Android device.  These require Adobe Digital Editions and must be read on the native OverDrive platform.  See note under OverDrive above. ***
SORA Getting Started
To find out which contests are available during the school year at HCOS, go to: