Math Course Options and Streams
This page provides information regarding the various courses and streams a student can take at HCOS for Math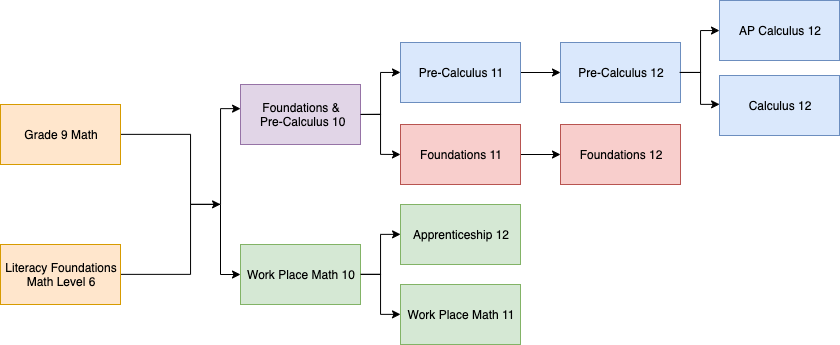 Students in Grade 10 will have to make a decision regarding what Math courses to take
Things to consider when choosing a Math Stream:
Students need a math 11 or 12 course credit in order to graduate with a Dogwood diploma.
Students can still go to university or college without taking the Foundations & Pre-Calculus Math Route. However students may not be able to enter into the Sciences or Engineering streams. 
Pre-Calculus 12 should be taken if interested in going to a top level university.
Nursing Programs or Business Programs usually require Pre-Calculus 11 or Foundations 12.
Students interested in going into trades should take  Apprenticeship Math 12

Workplace Math 10 is the prerequisite for either Workplace Math 11 or Apprenticeship 12 
Work Place Math 11 and Apprenticeship 12 are equivalent in workload and difficulty. 
If you'd like to find out the content that is covered in a particular course please view the Course Description Website